Why Consider a Digital File Format for your Family Video Tapes & Cine Films
Posted on the 17th November 2017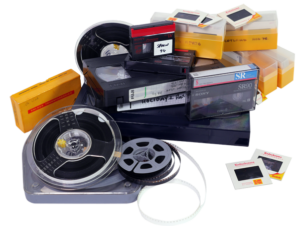 With the ability to transfer our old home movies from cine film and video tapes to longer lasting formats, it is important to understand which format is the best. For some years, the trend was to transfer everything we could to DVDs and we would be able to relive our greatest memories by easily playing it on a computer or in a DVD player. Things have changed a bit and now the best way to store our cherished times is by using digital file formatting.
Why Choose Digital Transfer?
The first reason is that DVDs will one day become obsolete, we've seen 8-track tapes, cassette tapes, video tapes, and CDs all being replaced with the next latest and greatest technology. The odds are therefore pretty high that DVDs will one day be a thing of the past.
Most clients prefer to have the opportunity to either archive a high quality digital file or have the opportunity to get hands on and edit their own films using the many editing packages widely available.
Digital formats allow you to share your memories. Once your film is saved as a digital format, it is easy to copy and send to others, it can be sent via file sharing sites or you could even pop them onto a portable storage device. For anyone that is social media savvy sharing videos through sites such as Facebook, Vimeo, Vine, Instagram and YouTube are also very popular.
Choosing digital file formatting to transfer your video tapes and cine films provides a great way to create a family archive for future generations to come.
Posted in TVV News
[ssba]