Video tape and camcorder transfer services.
Your tapes deserve the best that's why we have invested in the highest quality professional playback machines and scaling hardware to transfer your family home video or professional tapes at the very best quality.
Transfers to HD digital video files such as MP4 or DVD for ease of playback, transferring from most domestic and professional formats, now is the time to protect them by changing over to a digital format.
All popular camcorder tapes supported

VHS

VHS-C

SVHS

SVHS-C

Hi 8

Digital 8

Mini DV

Video 8

Betamax

HDV

Professional formats supported

U-Matic All Varients PAL

Betacam SP PAL

Digital Betacam

DV-CAM

HDV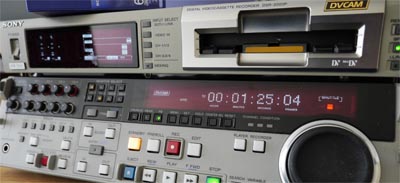 It is true that tapes won't last forever these older formats are degrading and showing signs of age such as mould growth and dropout, we recommend you transfer your recordings from these ageing analogue tape formats to a modern digital file format that is easy to copy and backup for future generations.
We wind all tapes end to end to reset tape tension and tracking this also helps where tapes have only been partially rewound and have been incorrectly stored, playback tracking is manually set (where appropriate) and digital time base correction is applied for optimum results.
Most formats are getting old now beyond 8 years and many playback decks are getting difficult to fix as spares are becoming obsolete, we recommend transfer to a digital format for ease of use and playback or upload YouTube or Vimeo.
Professional Tape Formats
For professional tapes we record the highest quality of output possible to 10 bit 1:1 together with our Teranex unit we can smart upscale to HD and UHD, apply standards conversion or de-interlacing for the very best result. Contact us for more information.

Camcorder and video cassette tape transfer costs

Mini DV, 8mm, Hi8, VHSC, VHS and Betamax Videotapes to DVD

Number of Cassettes
1
2 – 49
50 +
Transfer to DVD cost per tape up to 2 hours
£16.50
£12
£10
Tapes Longer than 2 hour duration.

 £4 for each additional hour of recording

(excludes commercial content such as TV programmes)

Additional DVD copies in Slim Jewel Box only £4 each

Mini DV, 8mm, Hi8, VHSC, VHS and Betamax Videotapes to MP4

Number of Cassettes
1
2 – 49
50 +
Transfer to digital files to either MP4, .avi or .mov up to 2 hours duration (excludes storage drive or USB memory)
£22
£16
£14

Tapes longer than 2 hours will be charged at an additional £4 for each additional hour of recording.

(excludes commercial content such as TV programmes)

Broadcast and professional tape transfers to ProRes or DNx  including upscaling to HD through our Teranex £30 per tape.

Courier and RoyaDelivery and Packing Chargesl Mail Special Delivery Charges

Mainland UK Zone 1 up to 15 Kgs £11.50

Zone 1 includes England, Wales and parts of Scotland, excluding Highlands and Islands. The zone is made up of all postcodes not mentioned in zones 2 and 3

Zone 2 – The Highlands and Islands of Scotland – postcodes IV, HS, KA27-28, KW, PA20-49, PA60-78, PH17-26, PH30-44, PH49-50, ZE

Zone 3 – Northern Ireland, Isle of Man and Isles of Scilly -post codes BT, IM, TR21-25

International Deliveries – Please contact us for an accurate cost.
Video to Digital Files
We transfer to either an uncompressed AVI format or 1:1 MXF files outputs can be in a range of formats to suit such as Quicktime, DNxHD/HR or MP4 files. The above price excludes the supply of media, a portable USB 2/3 hard drive is recommended you can supply one with your tapes or we can supply new drive at an additional cost.

Snapped or mangled tapes or shattered cassette shells.
Most damaged tapes are recoverable we can repair and transfer including splicing, removing mangled sections or re-shelling, for this service we charge £25 per tape including transfer. Please mark any suspect tapes with the possible fault so we can check them and repair as necessary.
We also do digital clean-up, editing or even scale up to HD and upload for internet playback or supply on BluRay discs or hard drives.If you are not sure of the format of your tapes don't worry just send us your cassettes and let us do the rest.
This is a service tailored to both the general public and video professionals, please note you must own the copyright on any recordings you submit for transfer.
If you're interested in our camcorder tape transfer service contact us today.