Hire Experienced Camera Crew
Chris our lighting cameraman has over 18 years experience he's an award winner with an extensive kit, flexible and with a keen eye to create compelling visuals for any project.
Available as crew only or with kit shooting on the popular Sony FS7 complete with a full lens kit, lighting and sound.
C300, PMW500, Arri cameras available as well as a host of other formats.
With a broad range of experience in both TV broadcast and commercials work as well as corporate from clients that include the BBC, ITV Productions, ITN News, Sky Sports, IMG, Renegade, Blink, Impossible Pictures, Fulcrum, Cloudbase, Silver River, Talk Back, RNLI, Sony, Nike and many many more.
We can also supply from our database other verified crew in various disciplines including location sound recordists, prompting etc.
Undertaking commissions generally in the North East, North West and Southern Scotland. Competent in all aspects of production including live broadcast, documentary and features, PSC and multi camera OB's.
With the ability to work on our own initiative or within a larger unit and are fully flexible over working hours, locations etc.
Call us today to discuss your requirements – 0191 286 9800 or 0797 328 4784
Kit List
Camera: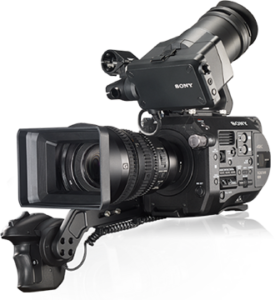 Formats include Sony FS7, Panasonic HPX250, GH3, Go Pro 3+ cameras

Full range of of HD Zoom lenses and primes available

Matte box + filters NDs, GRADs, Polarizer etc
Lighting:
2 x 1×1 LED Bi Colour LED High power lights

1 Pair Diva style Lights with daylight and tungsten balanced tubes.

2 x LED Softy Lights

Arri 650 with Chimera Soft Box

PAG on-camera LED light

Stands, scrims and colour gels and CT
Sound:
2 x Micron radio kits with portable receivers and lapel ECM mics

Sennheiser 416 Microphone complete with Rycote, Softie and 2.5m Carbon Pole

2 x Sony ECM Tie-Clip Microphones

Sennheiser HD-25 Headphones

SQN 5S Stereo field mixer in Porta Brace
Tascam Audio Recorder
Grip & Support:
Vinten Vision Tripods

Vinten rolling spider

Glidecam HD4000

Glidetrack 1m

Cine Saddle

Wally Dolly + 5m of track and High Hat

Lastolite chroma key green screen

+ Lots more sundry Items